Nonprofit Branding: Our Complete Guide and Best Examples
Learn more about nonprofit branding with our complete guide and best examples.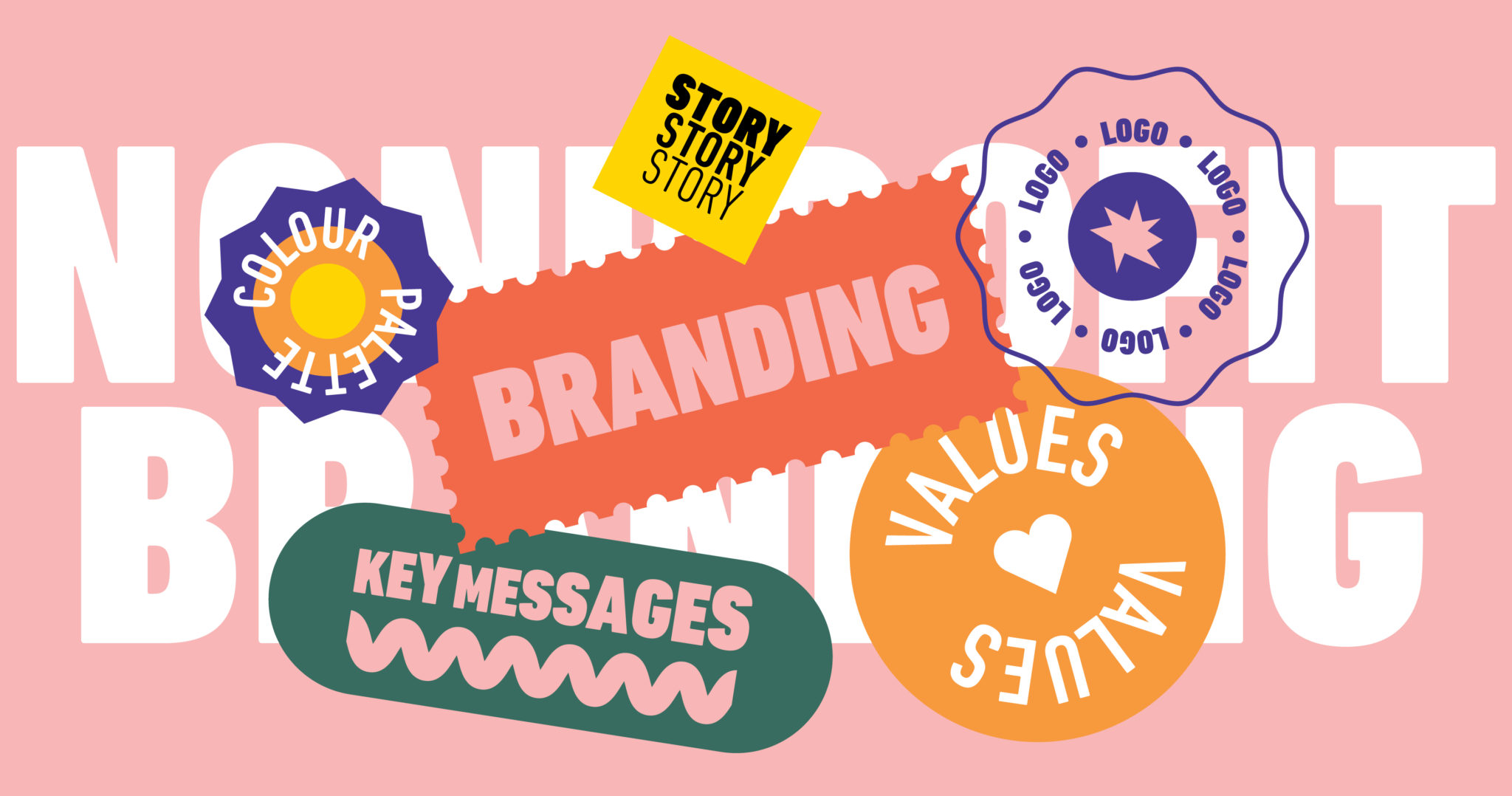 When you work at a nonprofit, standing out always seems like a priority.
This can be difficult when there are more than a million nonprofit organizations across the globe and likely thousands in your same sector or community.
An effective nonprofit branding strategy can help your organization stand out and allow your audiences to build more meaningful connections with you.
At Loop, we work with all sorts of mission-driven organizations to build and develop effective nonprofit brands. To help, we've put together this useful guide that will explore the following topics:
As you dive into the world of nonprofit branding and take a look at some successful examples, we hope you pick up some great ideas that will help your own nonprofit as well.

What is Nonprofit Branding?
Nonprofit branding is the way an organization communicates who they are and the heart of their work. It's a promise to participants, partners, and supporters and encapsulates why these people should believe in them. It's the way they position their nonprofit apart from every other organization out there.
These strategies often take a page from for-profit businesses as well. For example, picture the Nike brand. What comes to mind? Probably the iconic "swoosh" and corresponding "Just do it." Nearly anyone would be able to match the two to the company they represent.
While big-name companies tend to have the most recognizable brands, other well-known nonprofits can stand out as well. Consider the bright red cross of the appropriately named Red Cross or the bright yellow jerry can of Charity: Water.
Yet while a nonprofit's logo is a huge factor in its branding, it's by no means the only element involved. Nonprofit branding encapsulates all of the overarching elements that an organization uses to communicate its mission, vision, and rally-cry.
Drafting Your Nonprofit Branding Guidelines
An effective nonprofit brand incorporates multiple cohesive aspects that come together to make up who your nonprofit "is." Although a nonprofit brand can include many more elements, we'll discuss a few of the most critical ones here. These include your organization's:
Name
One of the most memorable elements of your nonprofit's brand is its name. Choosing a name for your organization can be one of the most challenging things you can do as an organization. With so many potential directions, word associations, and language considerations, it's important to choose a memorable name that aligns with your mission.
At this point, your nonprofit might already have a name that is well known among the communities you serve. However, if you decide that your name is no longer meeting your needs, if your mission or work has evolved, or you aren't appealing to your audience in a meaningful way, a new name can bring fresh momentum into your brand.
For example, WWF, founded in 1961, changed its name from the World Wildlife Fund to the World Wide Fund for Nature in 1986. This was done to better encapsulate the full scope of its mission and maintain the same iconic initials that it is known for across the planet.
Logo
Your organization's logo is the foundation of your overall visual brand. It will also likely incorporate a number of other branding elements, such as your name, colour scheme, and a tagline to ensure cohesion and recognizability.
Whether your logo is a wordmark or a symbol-based mark, it should represent the essence of your mission and brand personality. When included in your marketing materials, printed collateral, website, and more, your logo should elicit immediate brand recognition and build an emotional connection with your organization.
Nonprofit logos can take all kinds of visual directions. However, the most effective ones tend to incorporate elements related to the organization's mission, such as the wheat icon in the Feeding America logo or the home graphic Habitat for Humanity uses.
Typography
Your nonprofit's typography expresses your organization's personality through written elements of your brand and how your copy is styled and arranged. This includes choices of typefaces (i.e., families of related fonts), stylization (i.e. capitalization), and hierarchy.
Your typographic decisions have a significant impact on your overall brand experience and the feelings that it elicits. Different typeface systems speak with their own distinct tone, and this tone should directly reflect your brand.
For example, if your nonprofit speaks with a loud, advocacy-based tone, a strong vertical typeface in bold weights may convey urgency and action. On the other hand, a children's charity might use a more geometric typeface with a lighter weight to convey a calmer tone.
Ensuring your typography is readable and accessible, both digitally and in print, is critical to making sure that your most important messages and calls to action are clear for everyone.
Colour
Your organization's colour palette should be chosen with care, considering more than just what looks nice together. Each possible colour comes with its own nuances and subconscious characteristics to take into account:
Red: Red is bold and often used to represent big emotions such as passion, strength, violence, and health.
Orange: Orange represents a friendly and playful tone and is often full of energy.
Yellow: Yellow is linked to the sun and brings about feelings of warmth, happiness, and optimism.
Green: Green encompasses growth and prosperity, often in relation to climate and environment—making it a great choice for conservation-related causes.
Blue: Blue offers a wide range of meanings, including tranquility, trust, and professionalism.
Purple: Purple signifies innovation, a great choice for solutions-oriented brands.
Pink: Pink typically represents creativity, innovation, and is the colour of many movements in the 2SLGBTQ+ space.
Black: Black is typically representative of bold and serious brands.
When choosing a colour palette, it's important to consider common associations to certain colours (i.e. political parties or campaigns, like the pink ribbon for breast cancer) before making important selections.
While many organizations often choose a core colour, with a secondary palette of accompanying hues, there are no limits to the colours you can choose to include in your brand. What's most important is that your palette meets colour contrast and other accessibility standards, so that people can see and interact with colour in ways that work for them.
Positioning
Your nonprofit's positioning communicates what makes your organization unique and distinguishes it from its peers. Your position becomes a roadmap for the organization, and everything that you do or create should reinforce it. Nonprofit positioning tends to differ from that of the for-profit world due to its focus on collaboration rather than competition.
For example, if you operate a local food bank, you likely consider the other pantry down the road to be a partner rather than a competitor. After all, you're all working towards a common goal: feeding your community.
It's still important that you have a dedicated positioning strategy that answers the question of, "if there's already another nonprofit with a similar mission, why do you need to exist?" At this stage, it comes down to what makes you unique, and what makes supporting your cause the best possible choice.
Personality/Tone
Your nonprofit's personality and tone of voice go hand in hand, and each is important for a successful nonprofit branding strategy.
Personality refers to the humanization of your brand through emotions and other personal characteristics such as sincerity, inclusivity, and optimism. This makes up your nonprofit's identity and welcomes your audience to connect with you.
Your tone of voice, on the other hand, is the tangible expression of your personality. This comes out in the way you speak, write, and otherwise discuss your organization with your audience.
Overarching Message
Brand messaging encapsulates your organization's mission, vision, and key values. Your overarching message may express itself in a variety of ways. For example, it may manifest in short and memorable taglines, or expand to form a fulsome brand story that communicates to the world why you exist and how to rally action around your cause.
As you develop your nonprofit brand message, be sure to consider your organization's programming and benefits as well as overall style. It can also be useful to draft an elevator pitch to kickstart your messaging development.

Creating a Nonprofit Branding Strategy and Tips
Nonprofit branding is an involved process that works best when done collaboratively by engaging a cross-section of your organization. As you develop your own nonprofit's brand, keep the following tips in mind:
1. Create a living document with your nonprofit branding guidelines.
Your nonprofit branding strategy is likely to change over time to keep up with your evolving priorities and circumstances and continue to appeal to your audience. In order to keep up with every aspect of your brand (as covered above), it's a good idea to create a single document with all of your relevant branding information. Then, share this document with your entire marketing team as well as board members, leaders, and other key stakeholders.
And don't forget to update it as you make your branding changes going forward! If you redesign your organization's logo or adjust your main colour scheme, it's vital that these changes are reflected in your branding document.
2. Explore your organization's target audience.
Your nonprofit's target audience is one of the most critical components to consider when crafting or updating your branding strategy.
To do so, you'll need to first narrow down your audience to a specific group of people who are most likely to engage with your organization and its services. For example, does your programming cater to youth in the Toronto area? Middle-aged women across Canada? Income-challenged families throughout Ontario?
Once you've identified your target audience, consider what it is that they will connect with. Even better, engage them in the process of developing and testing brand messaging and visuals.
3. Maintain a consistent branding strategy across channels.
One of the most essential functions of a nonprofit brand—or any brand, for that matter—is its ability for people to recognize and connect it back to your organization. For that reason, it's important that you maintain consistent branding across every medium you use.
For example, your nonprofit's website is one of your most important marketing assets. As such, it needs to fall in line with the rest of your marketing materials. If your website has an entirely different colour scheme and overall style from that which your audience has gotten accustomed to seeing across social media, direct mail, and signage, there might be a mental disconnect for site visitors, which may cause friction points for support.
4. Work with a nonprofit branding agency.
Understanding the ins and outs of nonprofit branding can be difficult on your own, which is why many organizations look to agencies, like Loop, that specialize in just that. When you work with a nonprofit-specific branding agency, they can help you develop or update your organization's branding guidelines, imagery, and more. Plus, they tend to understand what strategies work best for organizations like yours and can provide you with expert advice for long-term success, including how to effectively engage different audiences and stakeholders in the process.
At Loop, we've worked with countless nonprofits, from local grassroots organizations up to multi-national nonprofits addressing global issues, to help hone in on what makes them unique and communicate that to the world. Take a look at some of our case studies or get in touch to learn more about how the process works. We always recommend drafting Request For Proposals, outlining your unique goals and needs prior to reaching out to help guide the conversation.
Inspirational Nonprofit Branding Examples
Often, the best way to improve your own nonprofit is to get inspired by other impactful organizations in the space. That's why we've pulled together a list of a few organizations that we think have well-developed nonprofit branding strategies. As you develop and update your nonprofit branding, consider the following examples:

North York Women's Shelter (or NYWS) is a nonprofit organization working to end violence for all women by providing emergency shelter and support to women in the Greater Toronto Area. Their brand is continuously evolving and offers a powerful example for similar organizations that provide inclusive and responsive services in trauma-informed spaces.
NYWS works to instill an optimistic brand without taking away from the seriousness and sensitivity of the services they provide. With a bright and encouraging colour scheme and thoughtful use of illustration, the team ensures a safe and reassuring space for their audience, while being flexible enough to speak in a powerful advocacy voice.

Teach for Canada is an innovative Canadian organization that promotes quality and sustaining education for Northern and First Nations communities. Their effective branding strategy works to engage with and unite teachers, mentors, and community leaders who are all fighting for equal education..
As seen above, the Teach for Canada logo was developed in three languages to appeal to its three distinct audiences: Ojibwa, French, and English. Much of their visual branding elements were also designed with input from teachers and Indigenous communities to honor their roots and depict an authentic representation of life in the North.

Tapestry Capital is a social enterprise that provides organizations and capital-intensive projects—particularly those that might have a hard time borrowing from traditional financial institutions—with the funding mechanisms they need to bring important community projects to life through community bonds.
The Tapestry Capital brand focuses on ensuring a sense of professionalism, credibility, and camaraderie to better stand out within the social finance sector. This branding centers around their slogan, "Finance to the power of community," and includes a complete graphic language through the "People's Tapestry," to bring this story to life in a visually captivating way.

Lawn Summer Nights is a well-known fundraising event hosted each summer by the Cystic Fibrosis Canada team. Through lawn bowling tournaments across the U.S. and Canada, this impactful campaign works to raise awareness and funding for a cure for the disease.
The Lawn Summer Nights brand emphasizes bold bowling-related patterns to grasp the audience's attention and reinforce the unique concept behind the fundraising event. The LSN team crafted their branding strategy with a specific audience in mind—young urban professionals—by incorporating a unique and creative "hipster-cool" energy into the digital-friendly campaign.
The Catherine Donnelly Foundation is one of the most established nonprofit foundations in Canada. They provide grant funding to a number of social initiatives concerning the environment, housing, adult education, and impact investing.
With a newly designed brand, the Catherine Donnelly Foundation is taking a modernized and human-centred approach to thrive in the digital space. Their updated logo, seen above, incorporates the "luminous C" and symbolizes the radiation of light and hope while connecting with the initial representing the C in CDF.
---
Your nonprofit branding is core to who you are. In order to keep up with the changing demands of the world around you, it's important that your nonprofit brand continues to evolve as well. We hope these tips and examples will help your organization in its journey toward a unique and effective brand strategy.
For more information or to kickstart your own nonprofit branding process, be sure to explore our other educational resources: