Putting fruits and veggies on plates for those who need it
with Double Up Food Bucks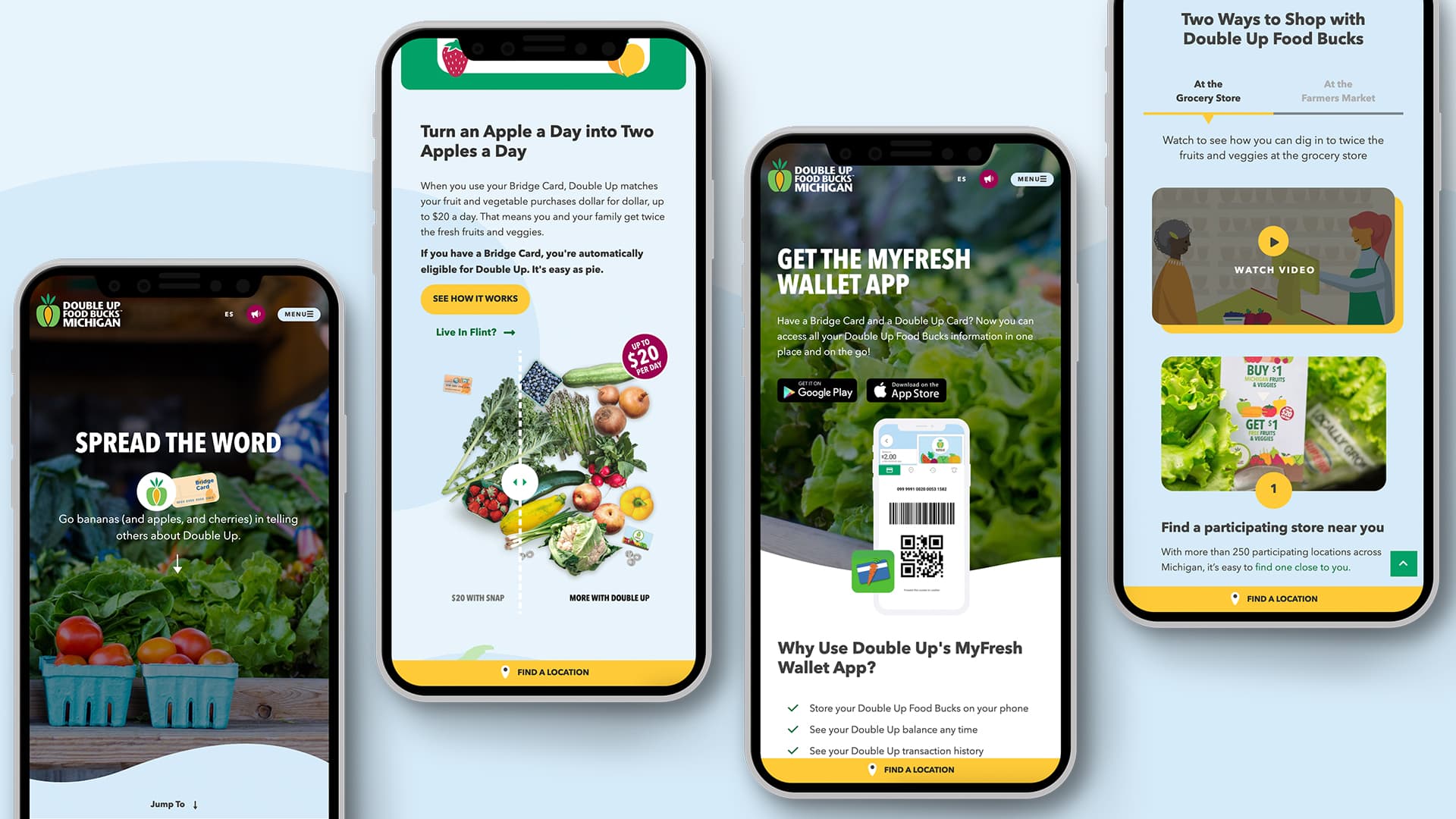 Relationship
Since 2020
Services
Graphic Design, Website Design, Website Development, Web Application, Community Engagement, User Testing, Copywriting, SEO.
Collaborators
Allison Smith, Copywriting
David McIver, SEO
Double Up Food Bucks is a game-changing model that systemically addresses food insecurity at the local level. Started in Detroit, Michigan, the program matches fruit and vegetable purchases dollar for dollar, up to $20 a day for those who rely on SNAP food assistance. Double Up improves access to fresh food and supports local agriculture and farmers' markets, making it a win-win. Over the past year, the Loop team has collaborated with Double Up Michigan to create a beautiful and engaging digital platform for the program and a national portal and microsite infrastructure to support Double Up as it expands across the country.
Engaging the Michigan Community
A cornerstone of the Loop approach for this project was community engagement wherever possible. It was essential for us to have a personal connection to the people who use the Double Up program, whether that be people on food assistance or those who manage the grocery stores and farmers' markets that accept the program. We spent time engaging with these people digitally and in person, spending time at local grocery stores and farmers markets in Michigan to watch the program in action. These experiences helped uncover opportunities to clarify how the program is communicated online and provide a tailored experience that preemptively answers questions and concerns upfront.
Through the experience, various iterative tests and engagement exercises helped hone in on intuitive site architecture and look and feel. It became apparent that the Double Up website needed to feel inviting and empowering and could help bust the stigma of food assistance by helping frame how everyone involved in Double Up Food Bucks is part of a robust community solution to food security. Through the use of colourful graphics, animated videos, photography, and food systems stories, we created an online face for an initiative that people can feel genuinely proud to be a part of.
Loop's creative tops most agencies I've worked with. They also bring technical know-how that was helpful when creating things like our map tool. They are a smaller agency than I've ever worked with so I appreciated the attention to detail for our project.
Andi Nank
Director of Communications, Fair Food Network
Creating a Holistic Experience
The new Double Up website works well for users by sharing information in ways that work for them, catering to different communication styles through step-by-step walk-throughs, videos and diagrams in Spanish and English. The website also provides a flexible tool that integrates with Salesforce to manage a participating locations map and various forms and lead captures. As part of a national mission, the website now offers a multi-site setup, with a WordPress template for Double Up partners in other states to create a consistent website with ease, helping spread the power of Double Up Food Bucks from coast to coast.